Classic office wear, while versatile, can often get a little boring. For those days when you want to look chic and sophisticated, but still stand out with your own style, go with a statement sleeve. The Melia Blouse features a wide button up collar, perfect for the addition of a bold and chunky necklace, and adorable puff sleeves with easy embellishments that will keep you looking as cute as a button!
Fabrics & materials used:
DOWNLOAD YOUR FREE PATTERN
Simply fill in the form below, verify your email address
and you'll be sent a link to download our free Pattern.
Please wait...
All seam allowances are 1/2″ unless otherwise stated. See chart below for sizing specifications. Note, this specific pattern is available up to a size 22.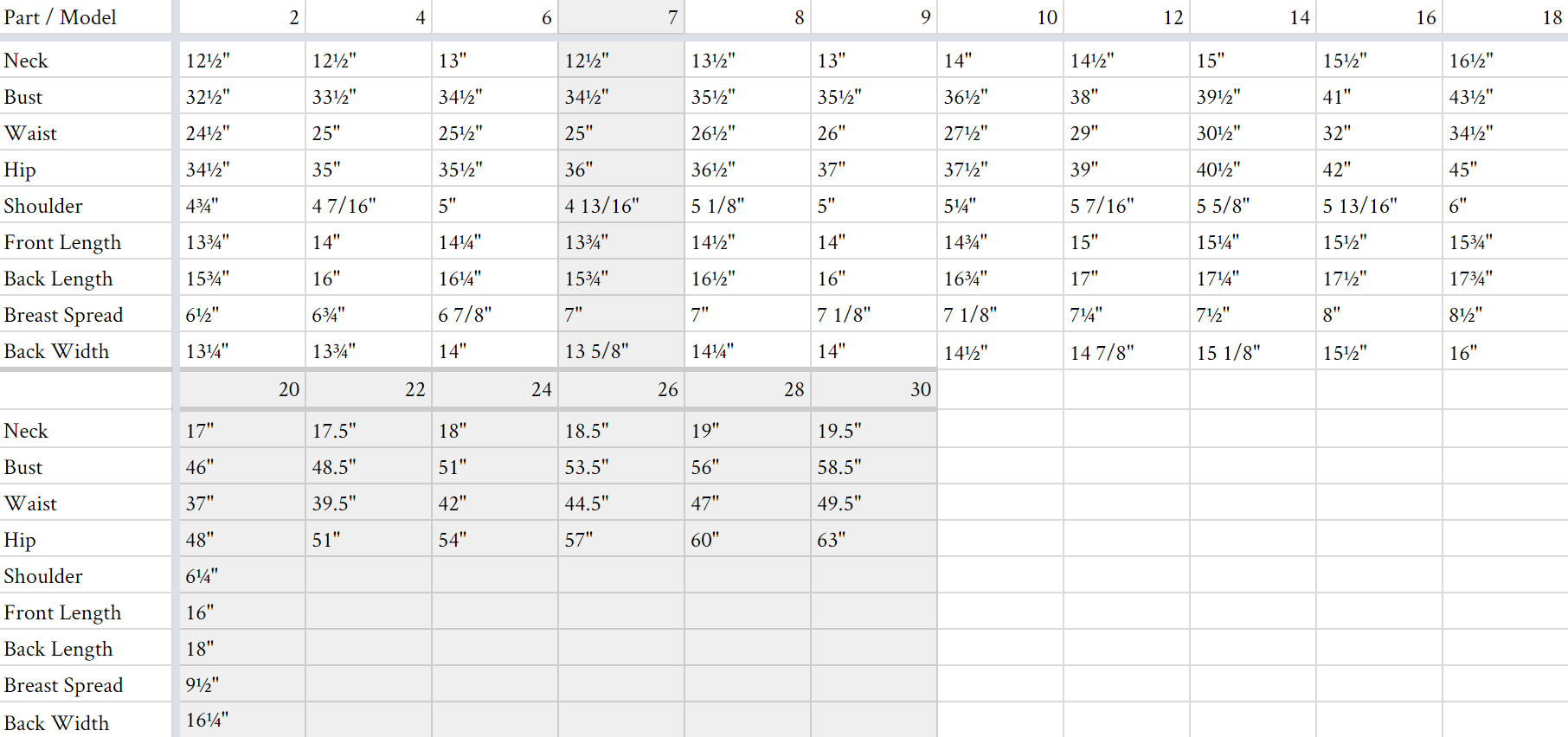 To start, place an inch and a half of interfacing along the center front of your front shirt panels. These will become the button plackets, so you want them a little more reinforced for sewing on buttons and buttonholes. Additionally, I used black interfacing here to show where I placed it, but you'll typically want to use white with a lighter fabric like this Sky Blue. Fold the raw edge of the center front back toward the wrong side of the fabric 1/2 an inch, and press. Repeat with a full inch, so you have a 1″ placket, and 1/2″ seam allowance folded under. Edge-stitch down the entirety of the placket to keep it in place.
Add the chest darts into your front panels, following the guides on your pattern, and then attach the front panels to the back of your shirt at the shoulders and sides. Since this is an unlined garment, I recommend French or Hong Kong seams.
Interface both your collar as well as the collar stand pieces, and then sew around the top three edges of your collar panels with the fabric faces together. Trim your seam allowance, turn right side out, and press.
Sandwich the bottom edge of your collar between the top edges of your collar stand pieces, like above. Sew along the top edge and curves; trim your seam allowance, turn right side out, and press.  You can attach one of your collar stands to the face of your shirt neckline and then fold the raw edges of the second collar stand inward and slip-stitch it into place.
Next, sew your shank back buttons onto the puff sleeve panel. I started with a column of 3 in the very center, and worked my way outward as I alternated between columns of 3 and 4. Each column is 2″ apart.
Matching up your notches, evenly gather the panel at the bottom of your upper sleeve. I'm using French seams here, so I've gathered it with the wrong sides together first. Once the panels are attached, you can sew up the inseam of the sleeve and attach it to the armholes of your shirt!
Gather the bottom of the sleeve puff similarly into the sleeve cuff. Machine sew one of the cuff edges to the puff, fold it in half, tuck in the raw edge, and slip-stitch like you can see above.
Lastly, use the placket guide on your pattern to add button holes and buttons to the front of your shirt, and then it's ready to wear!