Between Spring Break and the upcoming Resort season, it's officially time to start packing bags and jumping on planes to catch some sun and the last issue you want to run into is limited space. Skip the separates this spring and go for a jumpsuit instead! No need to think about tops and bottoms and tights and shawls; the best thing about a jumpsuit is it's an incredibly comfy all-in-one outfit so you can stay chic on the go. The Morina features an asymmetrical ruffle shoulder and can be made with a number of fabrics for any season!
Fabrics & materials used:
DOWNLOAD YOUR FREE PATTERN
Simply fill in the form below, verify your email address
and you'll be sent a link to download our free Pattern.
Please wait...
All seam allowances are 1/2″ unless otherwise stated. See chart below for sizing specifications. Note, this specific pattern is available up to a size 22.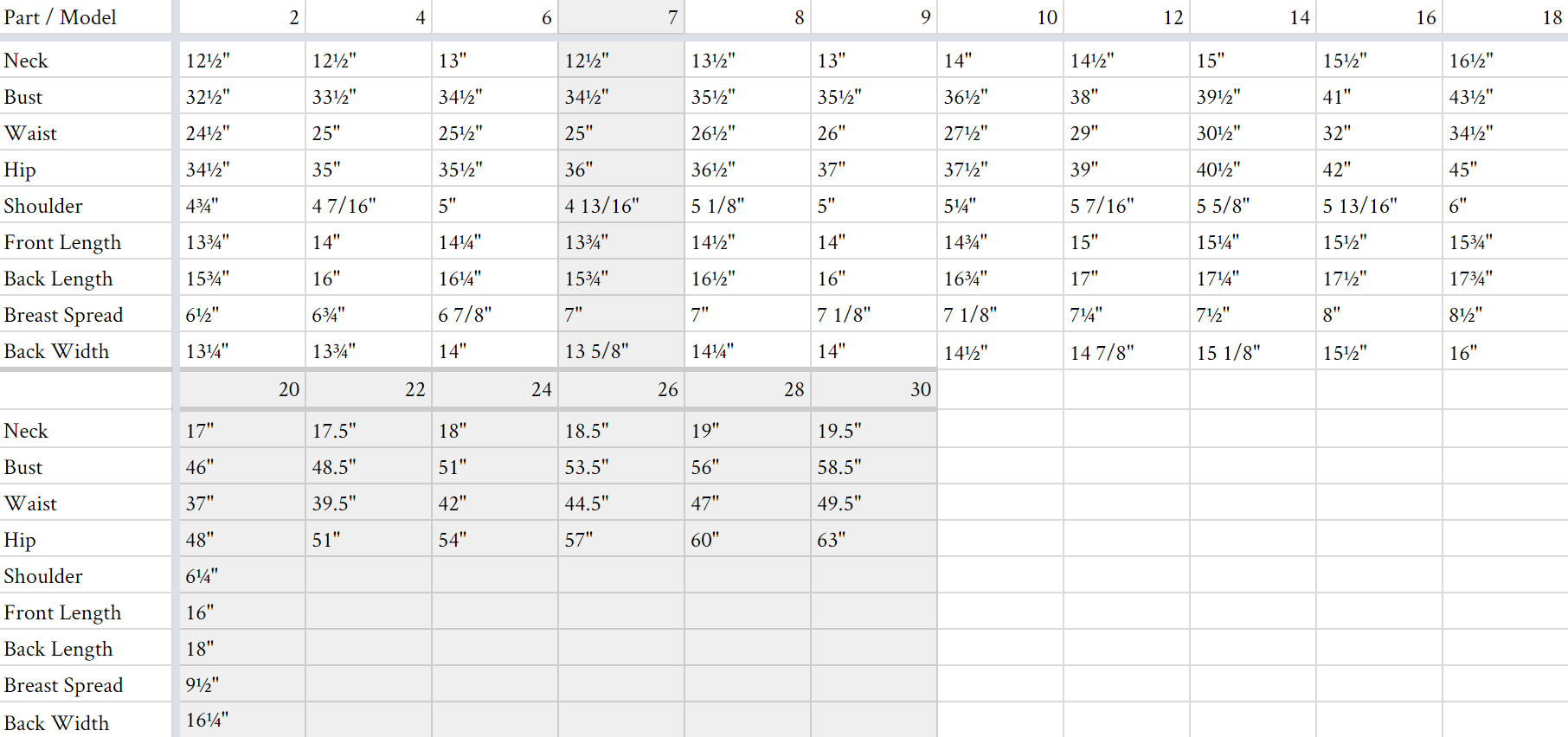 Begin with the bodice of the jumpsuit, attaching the front and back panels at the shoulder and sides. If you don't have a serger, a basic zig-zag stitch works just as well. Bamboo jersey doesn't fray, so using French seams on this project is up to you (I'm always a fan of using them, as you can see below).  When you cut your bodice out, be sure to lay your pattern pieces so you're cutting out the same shoulder if your fabric has a specific right and wrong side.
Double fold the raw edge of your armhole inward and zig-zag stitch to finish.
Next, set the bodice aside and connect your two front panels at the rise, followed by your two back panels at the back rise. Once you have the front and back formed separately, they can be attached at the in- and out-seams. You now have a pair of jersey pants! Set them aside and we'll get started on the bodice ruffle.
Your ruffle is made up of two almost-full circles. Connect them at the underarm seam, like below.
With the wrong sides of your fabric together, pin the ruffle to the neckline of your bodice while lining up the ruffle seam to the underarm seam. Mark 10″ from each end of your ruffle and pin that mark to the shoulder seam of the neckline. Evenly gather the remainder of the ruffle, like below.
Flip the ruffle so the right sides of the fabric are together, like below, and stitch to create a French seam. This will also act as the casing for your elastic.
Cut a length of elastic that fits snugly and comfortably around your shoulder and underarm and feed it through the casing of the neckline.
Lastly, iron the ruffle and hem of your jumpsuit to keep the jersey from rolling. And then it's on to the belt!
The belt is made up of two long rectangles, which need to be interfaced. Sew them, faces together, leaving one of the small sides open. Pull it right side out, press, and slip-stitch the last end closed and your jumpsuit is complete!
Mood's bamboo jerseys are beyond perfect for this project since they're super soft and have the perfect drape. Plus, they come in 16 awesome colors! Which one will you be using for your jumpsuit?